Bring all your sensors online, in one place, and get real-time measurements
.
Unlike any device in the market, Pulsa Link leverages existing hardware, connects with any sensor with a 4-20ma or 0-5V signal, is weatherproof, plug and play setup, and sends readings hundreds of times daily.

"We've invested in expensive telemetry solutions in the past like flow meters. It's easy and affordable to connect the Pulsa Link to those devices and bring the data into the Pulsa Dashboard along with our Pulsa Sensor data. With the Link we're getting even more value out of our Pulsa investment."
Thomas Litzkow
Engineered Systems Applications Specialist
Toll Gas & Welding Supply
"The Pulsa Link is a great example of how innovative Pulsa is. Connect the Link to sensors on almost any tank, add a Pulsa Gateway and you're golden. It works really well."
Steve Mills
Founder and CEO
Cryotx
Pulsa Link Compatibility

Categories include:
Legacy third party telemetry High pressure and differential pressure sensors, e.g. Anova/ DataOnline, Otodata/ Wise

Flow meters e.g. Omega, Sierra Instruments, Emerson
Capacitive rods e.g., Rotarex C-Stic, Cyl-Tec Level-Eye
Existing bulk digital gauges e.g., Chart Cyl-Tel, Chart Wika

DP Gauge with Telemetry

O2 / CO2 ppm monitor e.g., CO2Meter, Analox
And more!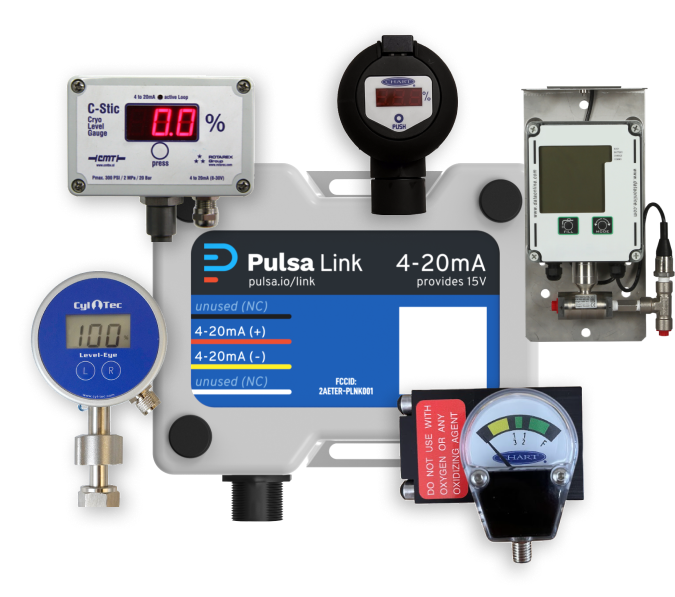 Try Pulsa Today!
Get a Pulsa product + Pulsa Gateway + the platform service
Experience modern, sophisticated inventory monitoring
Features
Create alerts for specific levels and fill-ratios
Waterproof and moisture resistant
Small size for easy integration
Stay ahead of problems with powerful trend tracking
Connectivity to Pulsa Gateway:
Cellular: 5G, 4G, 3G & 2G
Low power draw
(5+ year battery life)